The deepest parts of the world's oceans are named for the god of the underworld, Hades. This hadal zone, below 6,000m, includes some of the least visited parts of the planet: until recently, four times as many people had walked on the surface of the moon as had dived to below 10,000m. In May 2019, that number increased from three to five*.
The Five Deeps expedition is a privately funded attempt to dive the deepest parts of five of the world's oceans: Atlantic; Southern; Indian; Pacific; and Arctic. The number of dives that have so far been undertaken is truly mind-blowing, with an expected total of at least 72,000m vertical depth and over 74,000km of water traversed.
American private equity investor and retired naval officer Victor Vescovo is an explorer. As part of the Explorer's Grand Slam, he's summited Everest and reached both Poles. In 2016 he approached Triton Submersibles, asking them to build a vessel that could not only reach the hadal zone, but also carry a passenger. The vessel needed to be a fully functioning research vessel, able to dive multiple times (it's already made ten dives to below 10,000m), and be capable of withstanding 140MPa of pressure, i.e. c20% greater than the deepest point in the ocean.
The result is the Triton 36000/2 Full Ocean Depth Hadal Exploration System, available to purchase, should you so wish, for $48.7 million.
I must admit, I didn't even know about Five Deeps until May this year, when Mr Vescovo and Dr. Alan Jamieson of Newcastle University broke the record for deepest manned dive previously held by Jacques Piccard and Don Walsh (in 1960, they reached a maximum depth of 10,911m in the bathyscaphe Trieste**). I noticed that Omega was among the sponsors and set about trying to find out more information about their involvement. Unfortunately, apart from noting Mr Vescovo's personal watch (see above), no further information was forthcoming.
However, it seems that more than one Omega was worn during the dive – while Mr Vescovo was sporting a Planet Ocean chronograph, the DSV Limiting Factor was also "wearing" a watch***.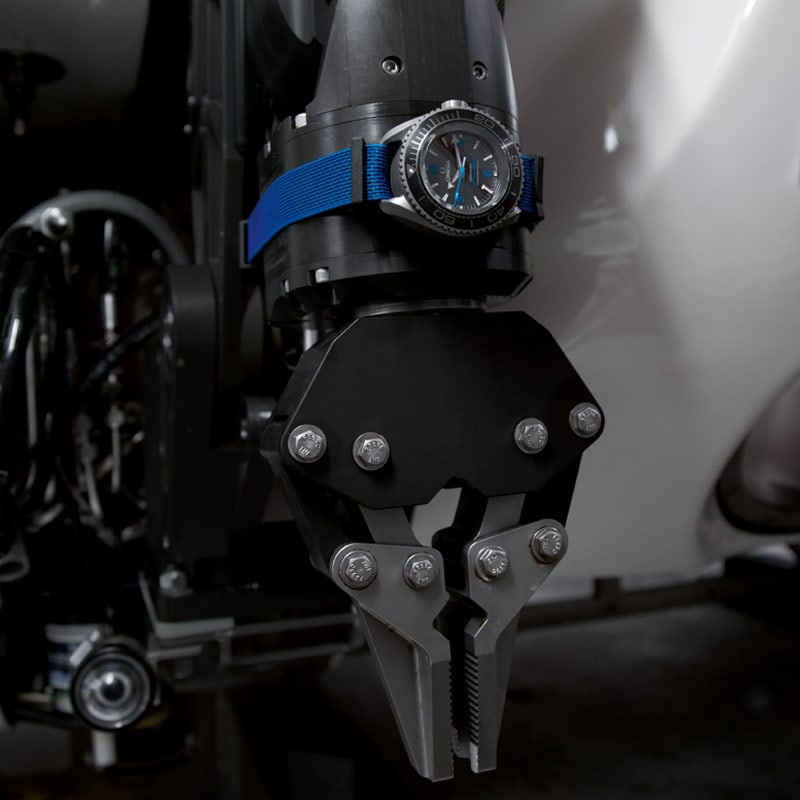 According to attendees who flew in for the Omega event at the British Museum last week, the Seamaster Planet Ocean Ultra Deep Professional (or SPUDProf) was designed and built in around six months. Using the same Grade 5 Titanium from which Limiting Factor's perfectly spherical pressure hull was forged, Omega created a 55mm wide, 28mm thick watch capable of withstanding not just the c11,000m of the Challenger Deep, but an additional 25%, per the ISO for Dive Watches.
The watch is powered by a Master Coaxial movement, the anti-magnetic no-date cal. 8912, and has a 60- hour power reserve (useful, given the unforeseen issues suffered by Lander Skaff (see below)). It also uses Omega's Liquidmetal (R) technology to bond the massive conical sapphire crystal to the case.
As watches go, this is clearly a behemoth. The three prototype watches (FOD-X, for Full Ocean Depth-eXperimental) may lead to something else in the future, perhaps using the same titanium, or case construction, or manta lugs, but who knows. This watch is interesting, being (probably) the deepest tested mechanical watch to date (15,000m), but it's also a bit of a dead end. Actually, most deep watches are dead ends (see the ill-fated quartz watches of Beuchat, Sinn, St Moritz, Bell & Ross, et al) but I'm still a fan. As a recreational diver and freediver, I know my limits. I also know that wearing a dive watch and a computer is probably a little pretentious (if I really wanted redundancy, I would carry a second computer) but that doesn't stop me packing a couple each time I go diving. There's a certain romanticism, perhaps, in wearing a watch underwater, even if it's not strictly necessary.
The Seamaster Planet Ocean Ultra Deep Professional commemorates a rather incredible thing – the successful production of a manned research vessel capable of repeated dives to hadal depths. The scientific information that has already been gathered during the four ocean dives is still being analysed, and a Discovery Channel documentary will air later this year. Distressingly, they appear to have found plastic at the world's deepest point.
The Five Deeps expedition still has a few dives to make – the Arctic Ocean is its final destination, with a visit en route to the wreck of RMS Titanic – although there's no word from Omega as to whether Limiting Factor will be wearing a watch again.
*Remarkably, the number increased further during the Five Deeps expedition, as John Ramsay (the 36000/2's structural designer), Jonathan Stuwe and Patrick Lahey were added to the list.
**James Cameron also reached the bottom of the Mariana Trench in March 2012, in the one-man Deepsea Challenger
***Three of these watches were "worn" on dives, including one by one the remote Lander vehicles, Skaff, which got stuck in the silt at the bottom of the trench and had to be rescued!